THE MY SPLASH PAD Experience
What is your favorite childhood memory? If you are like us, we bet it involves water—a swimming pool, a lake, the ocean, or maybe a water park!  For today's kids, the splash pad is the place to be, and we have found many parents agree. Safe water play options for all ages, abilities, and budgets ensure everyone gets in on the fun.
Why choose My Splash Pad?
Our expert splashpad and spray park installation services span commercial, light commercial (i.e., preschools, daycares, campgrounds, and HOA or smaller community parks), and residential applications. We create everything from intergenerational and inclusive community water parks to personalized backyard splashpads with both permanent and non-permanent options.
We manufacture our splash pad features in the USA, right here in northeast Ohio. We manufacture from Marine Grade fiberglass and painted with urethane enamel for a scratch, fade, and chip-resistant surface. Our water park features are built to last, with no steel or welds to rust or PVC that will break! 25-year warranty on corrosion for our above ground water play features!
We have the most dependable DIY splash pad kits in the industry. These kits are also made in the USA and come complete with a UV light sanitizer/clarifier that kills 99.99% of bacteria and viruses, others only offer this as an option, we include this, so you have a safe water environment for your children. We feel that water chemistry is a must, not an add-on option! To top it off, there is a lifetime warranty on the moving parts of the mechanism that makes the water dance.
Our parent company has been in the service business for thirty years, and the last ten years we have been dedicated to manufacturing the best and safest water play features and helping community parks, daycare centers, recreational facilities, and homeowners scale their innovative water play spaces to match their budgets without compromising quality and fun. Unlike other manufacturers who only sell to installers for installations, we are both the manufacturer and installer. That means you work directly with us. No middleman! No upcharge! Just the best products, price, and service. But don't take our word for it; take a look at the reviews we've received.
Create the water play destination of your dreams with My Splash Pad!
We offer you the ability to customize your splash pad kit, water play splashpad features, or installation package to fit your wants and needs—right down to your color selections. It's our goal to make your vision for your water park, HOA spray park, campground water play area, daycare aquatic play area, swim club splash park or backyard splash pad a reality. 
We take the time to design your project with our CAD software using as much realistic background of your area, this helps everyone envision the project. CAD renderings are especially helpful when you have a committee or board, this way everyone can be on the same page with the design and the colors for your project. My Splash Pad is your designer, manufacturer, installer, and service management company for all your water park needs.
Custom water park features
Do you need a custom water park feature? We will work with you side by side on your ideas for custom water play features.  We have manufactured custom features from an Oil Rig Derrick, to several Disney themed Make A Wish special splash pads, to Banana Boat Sunscreen's portable splash pad in New York City and many more!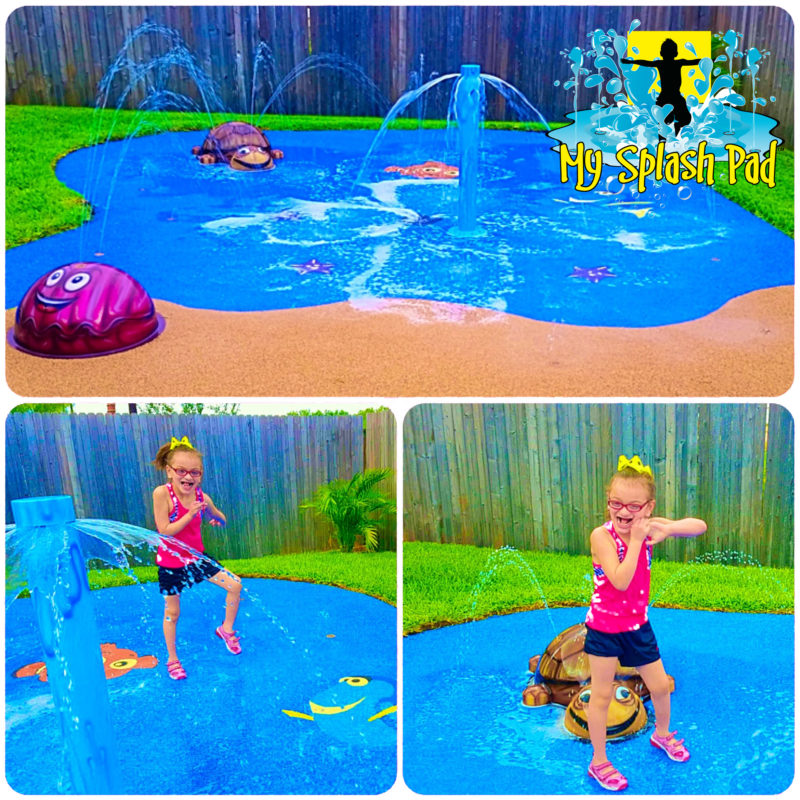 Animal Water Play Features for your Splash Pad
So, what would you like? Are you looking for animal features with smiling faces for hands-on play? You might like our Alligator, Fish, Crab, or  Turtle. Does your idea of a splash pad include classic features like our Large Mushroom, Mini Mushroom, Triple Fun, Hoops or Double Axis Water Cannon? We have those and more!
LED Lighting for your water park project
Did you know you can add LED lights? The installation of our Surface LED Lighting means the fun doesn't have to stop when the sun goes down. Can someone say, "Dance Party"!
Portable splash pad options
Are you more interested in an instant, non-permanent splash pad option? Check out our one of a kind portable splash pads. No one else in the WORLD offers a mobile splash pad like our set up. You can go from crate to party in minutes; all you need is a working garden hose and a flat area to place it. Our portable splashpads move with you, they are great if you reside in an apartment complex. There are many above ground features that just bolt right on to the platform for a fun and moveable water park. We have even intergraded our fun animals and dog water park features into our portable and mobile line. 
Dog water park features
What about recreation for your favorite pooch? Dog water parks are becoming commonplace at doggie daycare centers to provide man's best friend with a great way to cool off and socialize with other dogs. When we recognized the benefit our products offer the dog park industry and their customers, we went to work to create our Dog Bone, Dog Water Bowl, Fire Hydrant, and Doghouse water park features. 
Safety surfacing
What about surfacing? Our poured in place safety surface options add personality and comfort to your water play areas, splash pads, and playgrounds. The color combinations are endless and design options abound with inlays of lily pads, fish, flowers, or your own custom design. We can also manufacture your custom logo out of the same safety surface material to install in the surfacing.
Splash Pad Maintenance
Do you have older water park features that needs to be repaired and updated? We have taken many older features from other manufacturers and brought them out of the 90's. We can take your old, tired feature and recoat with our Marine Grade fiberglass, then put a fresh and up to date paint scheme to the water play toy.
View our gallery
Curious to see the work we've done? Our gallery is full of fun and unique designs that we have created!
My Splash Pad installations
You can find My Splash Pad installations in 40 states from South Dakota to the bottom of Texas, and from Boston, MA to San Diego, CA. 
Now, let's talk about what we can do for you!
Videos
[ytp_playlist source="PL_UAQMTrvizUhkWSAELY3zN8xBmEiSvqA"]